I am back with a Simon Says Stamp Wednesday Challenge card! This week's challenge is Emboss It - create with embossing powder, embossing paste, embossing folders. Whatever your creative imagination comes up with!
I needed to create this card ahead of time because I am currently at a trade show teaching and demoing for Lawn Fawn. Since I have been having a lot of fun lately playing with my distress inks I thought I would keep it going! They are a supply that I have had f-o-r-e-v-e-r but I am having fun rediscovering them and playing. I decided to use the same colors I used in the last Simon Says Stamp Wednesday Challenge.
I smooched the ink pad on my craft sheet and spritzed the ink with water, so that I had a pool of ink. I picked up that ink with a paint brush, making sure the brush was super wet. Then splattering the ink on a piece of Distress Ink Watercolor paper. I did one color at a time, heat setting in between each color. Then I stamped "hello" from the Winnie and Walter The Big Bold and Happy stamp set. Taking the Bubble Tim Holtz Layering stencil, I over-layed it on the right side of the card, taping it down with painters tape. I then spread translucent embossing paste through the stencil, while it was still wet I spooned some crystal ultra-fine glitter onto the areas that had the embossing paste. I let it dry overnight and it looked spectacular when I woke in the morning!
As a finishing touch I used some glossy accents and added some Simon Says Stamp Moonshine sequins.

Ok- so now it's time for YOU to enter the challenge.
Just by playing along (creating something with embossing) and linking up your project to the SSS Wednesday Challenge post you can qualify to enter a $50 shopping voucher to the Simon Says Stamp store.
One lucky winner will be chosen at random, it could be you!
I really hope to see some of my blog readers join in on all the fun and play along with the challenge. I can't wait to stop by some of your blogs and take a peek at what you have made. Have a wicked fun time creating!
Make sure to check back each Wednesday for another fun challenge over at the Simon Says Stamp Wednesday Challenge Blog!
There are SO many ways you can watercolor something. You can use tubed watercolor paints, you could use watercolor pencils, twinkling H2O's, distress ink pads, etc etc
At Lawnscaping Challenge we are challenging YOU to watercolor!
For todays card I decided to play with Distress Markers! I finally caved and purchased the set. I mean c'mon what was I waiting for?
This is a similar card that I am teaching in some of my Lawn Fawn classes, but I switched it up a bit for this post.
For all the images stamped out I simply brushed the distress marker on them, stamped them on Distress Watercolor paper and then took a waterbrush to the image, where I softened the line, or pulled the color into the surface.
For the ducks feet I just touched my waterbrush to the distress marker to pick up some of the color, this way I was able to get a darker variation then the rest of the duck. For the pond grass, I stamped it in green, but then added some brown by again picking up color from the marker with my waterbrush.
For the pond, I simply just kept pulling color onto my waterbrush from the marker and coloring with it. I really like the over all soft feel this card has, no harsh lines.
For this Lawnscaping Challenge Lawn Fawn is hosting, so this is your chance to win a Gift Certificate from them! I hope you will play along and show us how you like to watercolor!
Hey Everyone,
I am back over on the Neat and Tangled blog.
This week I am bringing it back to card making and using the oh so fun "Just for You" set. If you would like to see this card in more detail and hear more about it be sure to visit the Neat and Tangled blog!
Hello Everyone, I have a special post for you over on the Sweet Stamp Shop Blog today. I am continuing to share with you my love for type, and letters and fonts! So far I have shared with you how to create your own unique sentiments using the variety of alphabet stamps Sweet Stamp Shop has and how to create unique sentiments by mixing sentiments from different sets. Today I want to share with you how to create a fun background with a mix of different sentiments.
I used the Happy Birthday set and the Just the Basics set from Sweet Stamp Shop.
Head on over to see these cards in more detail.
I am SO excited to share with you my first Simon Says Stamp Wednesday Challenge card! This week's challenge is Spots and Dots-just use something with dots on your card (stamp, pattern paper, stencil etc) and the design team is using products from Paper Smooches.
I decided to create a rainbow colored card as a thank you to my friend Cheiron for encouraging me to even put my name in the hat for this uber creative team! She loves all things rainbow!
I picked out some fun Distress Ink colors and inked some Distress Watercolor paper with a Mini Blending Tool, really laying on the color.
I then secured the paper down with painters tape, then covered it with the Simon Says Stamp Medium Dot stencil. Using a clean Mini Blending Tool, I sponged up some water from my craft sheet and pounced it over the stencil. Be careful, you don't want too much water in your blending tool, or it will run under the stencil. Also, give your distress ink a chance to react with the water. This doesn't happen immediately. Take off your stencil to reveal the water colored looking polka dots- SO cool right!?!
I actually did all the above steps a second time so I would have similar cardstock to be able to cut the Simon Says Stamp mini star dies from. I thought these were so cute I saved all the extra ones to decorate some other fun parts of this project ( you will see below)
I used some glossy accents to attach some of the stars, overlaying them in a similar color area that they were cut from. Sprinkling them throughout the card. I just love how this part turned out! On the extra colored watercolor paper I also stamped a speech bubble from the SSS Talk Bubbles 2 set and then the "uber cool" sentiment from Paper Smooches Slang Gang. I cut this out and foam taped it off the card.
On the inside of the card I sprinkled some more of those stars and with a black glaze pen I wrote out "thank you"
And because I had some more stars and I thought they were so pretty I adhered some to the envelope and doodled Cheirons name with a black glaze pen. I will pop this in the mail to her tomorrow :)
Edited to add: one of my blog readers pointed out to me that Jennifer McGuire showed this technique on her blog. I had missed this post from her but love how her card came out! It is so neat how distress inks react with water, opens up a lot of different possibilities when playing with these inks! Be sure to check out Jennifer's post here
Ok- so how do you enter the challenge? What could you win!?!
Just by playing along (creating something with spots & dots) and linking up your project to the SSS Wednesday Challenge post you can qualify to enter a $50 shopping voucher to the Simon Says Stamp store.
One lucky winner will be chosen at random, it could be you!
I really hope to see some of my blog readers join in on all the fun and play along with the challenge. I can't wait to stop by some of your blogs and take a peek at what you have made. Have a wicked fun time creating!
Make sure to check back each Wednesday for another fun challenge over at the Simon Says Stamp Wednesday Challenge Blog!
I got a VERY exciting email late on Friday, and then was BUSY BUSY all weekend so I haven't had a chance to publicly jump up and down about this yet!! When Simon Says Stamp put a design team call out for their Wednesday Challenge Team, my friend Cheiron encouraged me to throw my name in. Hey why not? You won't know if you don't try right?! Well, as I watched the entries increase and increase to almost 600 I thought to myself "yea right!?!"
So when I got an email from Lorraine I was jumping up and down!!! Literally!! :) Mister Harley was scared and ran away, that's how excited I was :)
I am honored to have been chosen and feel very lucky to get to create along side the rest of the wicked talented girls on the team!! Thank you Lorraine, Heidi and Stephanie for this opportunity- I hope I won't disappoint you :)
Welcome to any new blog readers- here's to more inspiration! Cheers!
2 years ago if someone told me that I would be wicked happy, in a loving relationship and living with a guy- I would've laughed.
A year ago I posted this and at that time we didn't know that Chris would be let go of his job in NH. We didn't know where that would lead us. Everything happens for a reason. Now we are living together, continuing to build our lives together.


Reflecting on my one little word for the year, its crazy how well it fits. forward.

I wouldn't change a thing. Sure, some things are challenges- but what isn't? Anything worth it is a challenge. I learned that early on in life. Meshing two worlds that used to work independently is tough sometimes. Sometimes feels like all the time some weeks. But that is ok. I am up for the challenge.
Each day I look forward to more and more time with Chris. I love just spending time with him. He is my best friend. All winter we looked forward to another summer together. This summer we are working our butts off during the week (up late hours all week every week) just so we can spend time each weekend at our happy place. By the sea.
Over the past year with Chris's help I have been able to do more and more of what I love. The loft art retreats wouldn't happen if I didn't have his support, muscles and "mario"-ness. I have been able to devote more time to shurkus.com and really work on moving forward with my dreams for that site. His geekiness, willingness to cook, and skill at ignoring a messy loft all work together in making it possible for all of my new creative adventures.
To me that is priceless.

Let's be serious-
Who would
happily go visit the beach with me in January
?
Who would stop everything they were doing to
snap a cute pic of mister harley
?
While were at it who would
help me potty train mister harley
?
Who would
take a zentangles class
with me OR sit in on my copic 101 class?
Who would get me to help them
make thanksgiving
AND
christmas dinner
AND
have a christmas tree
?!
What Yankees fan would stay up with me to watch the
Red Sox win the world series
!?
Who would
pose for goofy pics
without griping about it?
I very much look forward to our future together and all we will share. It's exciting to think what the future holds, but really all I need is a big hug from him and seeing a smile on his face. That is what will always makes my day :)
Happy Anniversary Chris, I love you.
you're the one who can
make me feel gorgeous
with just just a flick of your finger
it is that easy
yes there was a time
you didn't always get your way
back there where my heart
was not so easy to invade
when my battlements were strong
before the Pilgrims came
don't forget you were the one
who loved my wild way
-tori amos, wild way
I am so excited to let all of the local peeps know I have an upcoming class at Kept Creations in Whitman, MA. Cape Cod peeps and previous Ink About It peeps- this location might work for you!!
Artsy Fartsy Mixed Media Cards, August 8th 6:30-9:30p • Kept Creations, Whitman MA
Join Jenn Shurkus in creating these 4 Artsy Fartsy Mixed Media Cards. We will be playing with new Dina Wakley paints, stencils and stamps. You will learn mixed media techniques while creating 4 unique greetings. Canvas, watercolor paper, tissue tape, stamps, color washes, stencils and gelatos are just some of the supplies we will be creating with. Looking forward to visiting Kept Creations and creating with you!
Contact Kept Creations to sign up
Supplies to bring with you:
variety of paintbrushes (not foam, LOVE Dina Wakley's new ones)
glue stick (recommend Ranger Collage glue stick)
container for water
baby wipes
heat tool
acrylic block (approx 3×4″)
foam tape
Black Archival Ink
Let me know if you have any questions and I really hope to see some familiar faces!
I also have a variety of Lawn Fawn Card classes available to be taught at Bella Art in Johnston RI. She is conveniently located right off of 295 (which is just a short drive from 95 or 495). Get 3 or more friends together and we can work on picking a date and time that works for all of us!
More details on my classes page.
Remember this sneak peek on instagram? Well, it turned into this:
I am back again as Neat and Tangled Guest Artist! Be sure to head over to their blog today where I have an art journal page and an tutorial video to go along with it! ( larger version of the art journal page )
I have the products I used linked below, and linked in the description on my video. I really am enjoying creating these videos, so be sure to subscribe to my channel so you wont miss any!
Hello! It is definitely summer in full swing here in New England! Chris and I have spent many times at the beach. The ocean is warming up ( 65 degrees so far) we have been grilling, I have flip flops on and I am a happy girl!

For this Lawnscaping Challenge we have a color combo for you, a SUMMER color combo! I promise I didn't pick these colors, but aren't they just perfect? With colors like this I just HAD to create a summery card. I wanted to do a quick and simple card to remind me (and you ;) ) that it doesn't need to be a complicated card. Especially in the summer when we want to spend more time outside and enjoying LIFE… you can still make a wicked cute card for a friend. I stamped, colored and diecut out the fun little seashells etc from the new Lawn Fawn Life is Good set. Then I cut 4 1×1 teal squares from some teal cardstock I found in my scrap drawer. Once I arranged the squares and sea bits I added some distress stickles to jazz them up. I then stamped the sentiment and with glossy accents adhered a few stickles. After seeing the card when it was dry I felt it needed a little something more so I tied some of the gold lawn trimmings around the spine of the card.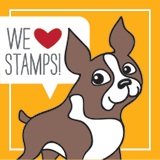 Hope you enjoy this creation and I can't wait to see what you come up with for this challenge. The lucky winner will win a gift certificate from our generous sponsors, Simon Says Stamp!