This is our last Lawnscaping challenge for 2013!  We are presenting to you an "arctic" color scheme to base your cards colors on. I know this was a bit tricky for some of the team, but its supposed to be a challenge right!?
I started off by pulling out some ink pads and papers I had in this color scheme. I didn't end up using most of it, but it helped inspire me to create the card below anyways- hence why my studio table is always a disaster!! :) I'm pretty happy with how my card turned out. I especially love the sentiment flag and the textured glitter on the fox's scarf.
Can't wait to see what everyone comes up with for this challenge!
NOTE | If you are looking for my COOLest Card Series go here
Welcome to our Lawnscaping Blog Hop, to welcome Elise's new little baby! You may have made your way here from Tamara's blog :)
The Lawnscaping Challenge Blog is also hosting their Winter Blog Hop, so be sure to browse that as well!
This fall when some of us girls were planning on doing a blog hop to welcome Elise's new little one I was also creating a card for one of my best friends, Stacy, who was also expecting. Congratulations to both of you girls! So so so happy for you!
Continue on the hop by going to Lynette's blog! Enjoy! If you have lost your way or want to be sure to see the whole hop here is the master list
Welcome back to my "COOLest Card Series" ! This is the second snowman card for you and each Saturday in December I will have a new card and video tutorial for you!
This week I am featuring a very cute snowman from Darcie's Heart & Home. They are so whimsical and sweet! I used Copic Markers,  Distress Glitter and Authentique papers on this card.
Watch the video below | Watch on YouTube
Just a quick post to let you know I have updated my classes page. There are some save the dates (as I'm working on samples now) and some other fun classes up and coming. I'm excited to be teaching my Art Girl Canvas class at Bella Art in January. I'm also wicked excited for my Crop on the Cape classes. I recently got all my supplies from Ink About It to start kitting- lots of really fun goodies! These kits are going to be PACKED!!
Ink About It has also started the sign ups for another Shoebox Swap! I love this day of craftiness where everyone can share their own style and fave supplies AND you walk away with a stash of fabulous cards to send to family and friends :) More details on my upcoming classes page.
Looking forward to 2014 and all the creativity in store!

(pictured above "Smile Each and Everyday mini book" I am teaching at Crop on the Cape)
I'm super excited to announce the winners from my Holiday Card Kit Giveaway! Thank you to everyone who subscribed to my youtube channel and liked my artist page on facebook! Winners please email me your mailing address by December 11th and I will mail you your kit!
The winners are:
Lisa Price says:
December 1, 2013 at 2:13 pm
Always have loved all of your work and long since been a Facebook fan and signed up for you tube videos! Thank you for the inspirations!
Gina Johnson says:
December 1, 2013 at 5:18 pm
I'm so excited! You are very talented. I have like you on Facebook and I subscribed to your YouTube Channel.
Betsey Terry says:
December 5, 2013 at 11:54 pm
Already liked/subscribed to both! Love that you're doing videos.
Jacki Bates says:
December 1, 2013 at 3:28 pm
Just subscribed to your YouTube channel which I thought I already did! And I've previously liked your FB page. That card is really cute but the special touch in this video is Mr H hanging out with you getting his own air time. Wishing you, Chris and Harley a very happy Christmas!!
Kim Kjerulf says:
December 2, 2013 at 12:16 am
I subscribed to your YouTube channel and also liked your Facebook page. Actually I had liked it previously … hope that counts.
Shaughn Woodruff says:
December 3, 2013 at 5:06 pm
Hi Jenn! Love the videos! I came across your YouTube late last night! So glad I found you! Love your card! That set is sooo cute!!
Lindsay mazzetta says:
December 1, 2013 at 3:04 pm
Great video!! The card is so adorable!! Mister Harley is so funny :-) thanks for a chance to win!
Anne Barclay says:
December 1, 2013 at 4:43 pm
Another great video, Jenn, really cute card as always.
Lisa Gobea says:
December 1, 2013 at 8:32 pm
Hi, I just ran across your adorable card and video on YouTube this morning and I love how your card turned out. It is so sweet and so adorable with those sequins on it. I have never used them and I have to say that I am thinking I just might have to pick some up the next time I get to go out of town and shop… Of course that has to wait until after Christmas, but that's ok as for now I have my latest addiction of enamel dots… lol… Anyway great card and thanks so much for the chance to win a card kit. That is just too sweet. Hope you are having a wonderful holiday season so far. I am headed back over to YouTube to catch up on your other videos. :O) Hugs Lisa G BTW, as I don't want to cave and join Google+ I can't seem to leave comments on there anymore, and I just can't change to Google+ as I really can't get the hang of the new look and all. :O( Yes, I am getting older by the minute. Ok, bye for now. Hugs Lisa G
Shannon says:
December 5, 2013 at 10:50 pm
Love the adorable card Jenn! I thought I was already signed up on your YouTube account, but apparently I wasn't. Just took care of that! :)
Thanks for a chance at a great giveaway!
Michelle Downie says:
December 1, 2013 at 2:31 pm
Hey Jenn, love to follow all of your fun stuff! You are awesome. I have signed up for your You Tube, Liked your Facebook and am now leaving you a comment. Take Care!
Janice Arponen says:
December 1, 2013 at 7:09 pm
So glad you have started showing how to make your cards on you tube! I have subscribed to you and of course I have liked you on facebook for awhile now:). Merry Christmas!
Edie says:
December 1, 2013 at 2:11 pm
What a clever idea. I love a kit but Sara was so excited about the class a few weeks ago she ant home and dove into Lawn Fawn pics. IF I win I'm giving my kit to Sara
Doreen M. Lesniak says:
December 1, 2013 at 12:40 pm
I am so delighted with your videos. I love to watch people for inspiration. You do a good job and it is wonderful that people can share with your creativity. I subscribed to your you tube channel and Facebook. Thank you for the chance to win a prize.
Dawn says:
December 1, 2013 at 4:38 pm
Liked and subscribed. Great card and video, now pick me!!!!!!
I am excited to present to your my first ever card series! Each Saturday in December I will have a new card and video tutorial for you!
Now why "COOLest"? Well because all of these cards are snowman themed, that's why! I HATE winter, but I love snowman and snowflakes. I'm so excited to share with you these 4 fabulous cards- let's get started!
Everyone is in the holiday spirit, so why not "Put our merry on" ?  I love creating cards with smaller images, like these from Rosie's Roadshow and a smaller card size- it makes them look so sweet! I enjoyed playing with some of the new embossing enamels from Stampendous as well. Enjoy the video where I explain how I created this card step by step. And be sure to visit next Saturday for another card in this series!

I have been admiring everyone's chalk art- and I knew when I settled into the loft I wanted a chalkboard wall for sure! The wall that faces my kitchen area seemed like a perfect place to me, and I love that it is big enough to be pretty creative with. I had a few people recommend to get the Benjamin Moore Chalkboard Paint. I am really happy with how well it went on, how it looks and how it is holding up to erasing etc. I definitely recommend it to others!
I played with a fun message for my Loft Warming Party as you can see above, but I did it all freehand and wasn't 100% in love with it. It's not a secret that I love typography and letters so- I came up with this super easy way of getting beautiful letters and fonts on my wall.
Anyone can do this!
I hope you find this tutorial helpful, and if you have any questions be sure to post them in the comments and I will answer them for everyone to see!

Step 1: First I set up the words in Adobe InDesign. This is just the program I use for anything text base I am designing, but you can easily use Microsoft Word as well. I set up my document to be 11×17, tabloid. I found a saying I liked on Pinterest, I like how she typeset it as well, so I used this for my inspiration. I typed out my saying. I find it helpful to have different text boxes for each word, or line of text. I had a visual in my head of how I was going to set it up on my chalkboard, so I kept that in mind for where I wanted to use different fonts etc. Remember you want this to be large so your font size is going to be larger then you are used to using, "thankful" above is 200pt. The text you are reading here is probably 12pt. Once you have this set up the way you like it (probably on multiple pages) I exported it as a PDF – this ensures the fonts will be readable by any printer etc. I then called my local Staples and asked the Copy Center for their email address. I emailed them the PDF file. I clearly stated I wanted one copy of each page, on 11×17 and black and white. Mine cost me 60 cents!! They can even print larger then 11×17- just ask them!
Step 2: I then cut the words apart and taped them on the chalk board wall to figure out placement. I used washi tape, as I knew this wouldn't harm the paint. Snap a pic with your iPhone so you can refer to it for placement.

Step 3: One by one take a bit of your words down, and rub chalk onto the back of the paper, then tape it back up on your chalkboard wall where it was. Repeat until you have all the pieces with chalk on the back, and taped back up in place. Remember you snapped the pic of the placement with your smart phone ;) use that for a reference.

Step 4: Take a pencil and trace each word, then just quickly scribble in each letter. Don't be too picky about this step- just enough to transfer the chalk to the wall in the shape of each word. Below is detail of  how rough I was with tracing each letter.

Step 5: Gently take away the paper print outs. You can see above and below how messy it will look, don't panic! As you can see below I chose not to scribble in the larger fonts and this turned out ok when I went to fill in the letters.
Step 6: Using chalk fill in your words. You will want to have a heavy hand and draw over the same spot a few times to really fill them in. I then took a small paint brush and held a mug of water, cleaning up the chalk dust that was around the letters. You can see below how well it came out! I free handed the pennant around the word "always" mind you it was close to midnight at this point, the night before Thanksgiving and after a day of cooking, cleaning and freelance web work I was getting tired ;)
Remember: this is chalk art- embrace the chalk dust and smudges!!
You can see how nice it looks on my wall, and in my loft. Pictured here are also the super easy place cards I made for Thanksgiving dinner, inspired by pinterest of course!
I am thankful for all I have embraced in 2013.
I'm a bit late for my last  "i am thankful" series post-but only because i have been wicked busy at my studio table with a fun series I have planned for December (more on that in another post ;) ) .
For my  "i am thankful" series this year  I didn't post everyday- so I didn't list the things like my friends, jimbo, chris, mister harley, my job, my health etc etc.  As I was reflecting on what this post would be about I was reminded it't the end of the year and I will soon be picking another "One Little Word" for 2014. I realized in 2013 I have embraced a lot, and for that I am thankful. Some of it I talked  about here on my blog.
Change was a BIG one. I left my home of 10 years, I left the ocean to move to the ocean state (only not near the ocean). This has given me the opportunity to save money, teach more classes, create more fun things for shurkus.com, take on freelance web & social media work just to name a few things.
I embraced a new relationship- after being single for a loooong time and realizing I just may be single forever and semi-ok with that. Just like they say- when you least expect it- it will happen. Well, it did- and I couldn't be happier. I truly found my best friend.
I embraced changes at work, changes in friendships. I embraced. All of this has helped me to grow, to learn better who I am and to step forward. This all makes me very thankful. I am quite content where my life is right now, where it is going and what it is approaching.
Even though this is the end of my thankful series for 2013, I am strongly contemplating making this a series all year long in 2014.
So this challenge says "tags or treat bags" well we all know how well i follow directions- so I made a treat box :)
I have been using my Silhouette a lot more lately- this is a good thing since Chris bought it for me last Christmas. I knew I would LOVE it.. just needed the time and space to play with it. Over the holiday weekend all the downloads on the Silhouette Online Store were 50% off- which for the most case meant .50 cents a download- so I stocked up!
One of the downloads I got was this Scalloped Party Favor Box. I cut it out of some of the Lawn Fawn- Peace Love & Joy 12×12 papers. I punched the tag with my Blue Marvy Tag punch, and stamped on it with some of the stamps from the Winter Gifts Lawn Fawn set (I'm a bit obsessed with this set right now ;) you can do so much with it!) .

This little box is perfect to give someone some little sweet treats- or even to create an advent calendar with! Now it is your turn: create a tag or treat "bag" and link to it on the Lawnscaping Challenge Blog. We will choose some lucky winners to get a prize from Simon Says Stamp! Can't wait to see what you create!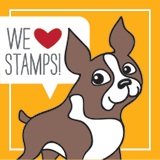 Stay tuned, upcoming blog posts:
My last post of  things I was thankful for.
A tutorial on how I did the above chalkboard art- super easy!
A card series I am planning out for the month of December
So, believe it or not I have another video for you! But first…

A few weeks back I was lucky enough to host the Make & Take for Ink About It during their Holiday Bus Tour. It was such a fun day where I was able to see lots of old friends ;) Chris even came with me and helped set up and became my official "foam tape cutter".
Thanks to the generous donations from Lawn Fawn and Memory Box I was able to design a super cute holiday card! I love sharing with people how fun Lawn Fawn stamps are and how nice of quality Memory Box note cards are- both are my favorites! At the end of the event I had some kits left over so I gave some to Ink About It and decided to give away some to YOU my blog readers!! The kit is all stamped and die cut, it just needs to be colored and put together- it's pretty simple,  and now you can watch my video on how to assemble the card!
How to win a card kit from me
Note: if you have already done both of these things, then just leave me a comment ;)
I will choose 14  winners and mail you your prize- a holiday card kit!! How exciting.
Thank you so much for all the comments and emails about my first video- I appreciate the support and comments from everyone!