It was a year ago that a horrible tragedy affected the Boston Marathon. Even though I don't live in Boston- today we are all a "Bostonian". We are Boston Strong. Today is a day to reflect on those we lost, those that were injured and all the obstacles they have over come over the past year.

Absolutely Everything, a local stamp store teamed up with Hero Arts and created this custom stamp. The profits made went to the One Fund Boston. My friend Lindsey grabbed me one and sent it to me when she was visiting AE (it is more her local store then mine) I am so happy she did, and I love having this stamp proudly displayed on my stamp shelves. I am not sure if the stamp is still available but I would contact AE if you are interested.
For this card I kept it simple. White embossed and a little bakers twine in a bow. Hug your loved ones a little longer today and be grateful for everyday you have with them.
Edited to Add: I noticed today 2 other bloggers have a Boston Strong card posted today- be sure to visit my friend Jennifer's site and a new to me blogger Debbie has a fabulous card as well!
I figured since I have been clogging up your email and social media feeds with all the registration information for the May Loft Art Retreat I owed you a fun post with an adorable shaker card I created! BUT first a couple things:
There are only THREE spots left in the May Loft Art Retreat on May 17th- Be sure to reserve your seat ASAP!
I have gotten a few emails from different people who mentioned either the date didn't work for them or they wished my event was on Sunday. Just curious, if I were to host another Loft Art Retreat on Sunday May 18th with all the same details as outlined here- would you be interested in attending? If so email me and let me know to help me decide if I should open this up as an option.
Ok, now onto the cuteness!

I was lucky enough to attend some of the online TrueStamp event last weekend. I'm so happy that I caught Kelly and Chari's "Moving and Shaking: Adding Interactive Elements with Stamps" class. I adore Lawn Fawn (of course ;) ) BUT I also was excited to learn the interactive cards they designed. Kelly's shaker card tutorial was SO adorable, and easy to follow I ran right out to get some fun foam and create my first shaker card. Ok, maybe this isn't the first one, but it has been a wicked long time since I created one! I am pretty pleased with how this came out, although I have some things I will do better the next time I create one.
I am also excited to play with some of the NEW Lawn Fawn Stamps like Wish You Were Here and Starry Backdrops.
I am WICKED excited to announce to you that registration is OPEN for the next loft art retreat that will be on May 17th from 10a-5p. I anticipate that this event will sell out quickly! Register HERE!
Just a quick reminder that registration for the next Loft Art Retreat starts tomorrow April 12th at 9am ET.
I anticipate that this event will sell out quickly! You will go to this page on my site, and there will be a link to register.
You can find all the details for my next loft art retreat that will be on May 17th from 10a-5p here.
If you have any questions don't hesitate to email me.
I look forward to seeing you soon!
Back again with another Lawnscaping Challenge! I had so much fun with this challenge because I finally made time to play with gelatos from faber castell! I have had them in my stash for awhile now, and I mainly picked them up for art journaling- but with this challenge I decided to play with them on some cards. Once I got creating I thought of a few different ways to use them so I have 3 cards to share with you. This challenge is sponsored by Simon Says Stamp. Do you have a technique you have been wanting to try out? Now is the time! I can't wait to see your creations :)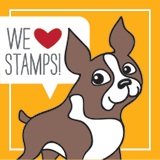 For this first card I heat embossed the Lawn Fawn Woodgrain background in white. I then rubbed some of the Mango and Red Cherry Gelatos over it and blended it out with a waterbrush. I then colored the images with Copics. After seeing Audrey's pink stegosaurus, I just had to have one too! The Stegosaurus was  my favorite dinosaur as a kid.  I also LOVE using distress stickles to add a little coconut to the palm tree.
For this next card I actually rubbed the gelatos right on the woodgrain background. I was thinking a sort of rainbow order, with the colors I have. Cherry Red, Bubblegum, Mango and Snow Cone. I posted a sneak peek of this on my instagram account (be sure to follow me).
I then misted it with water and stamped it on Tim Holtz Distress Watercolor paper. I love this paper it really makes a big difference using it instead of just your neenah cardstock when you are working with watercolors, any kinds. The woodgrain background only fits on half of the sheet of watercolor paper, so I just repeated the steps above to cover the whole panel. I stamped and diecut out one of the tags from Lawn Fawn Birthday tags. This may look familiar as the dies fit the holiday tag set as well that I used here and here! I used Hero Arts Ink in Poppy, Soft Pool and Bubblegum to match the gelatos and stamp the confetti from the birthday tags set. I stamped, cut and glittered a few stars from the Summertime charm set to sprinkle around the card. I love the mix of colors on the background from the gelatos, so YUMMY!
And for my last experiment- I scribbled the gelatos out on my ranger craft sheet and just water-colored some of the Distress Watercolor paper. I then diecut it with the new Lawn Fawn Spring Showers Lawn Cut set. I tore the waves, by tearing towards you it will expose the white core of the paper. Finishing touch was stamping "hello sunshine" from the new Hello Sunshine set in sepia brown versafine ink.  I think this is one of my favorite sentiments right now- we all know how much I LOVE sunshine :)
I hope you enjoyed these 3 cards and they inspired you to join in with out challenge at Lawnscaping, and/or to play with gelatos!
I am WICKED excited to announce to you that the you can find all the details for my next loft art retreat that will be on May 17th from 10a-5p here. Registration will open up for the event Saturday April 12th at 9a. So be sure to set a reminder for yourself. I anticipate that this event will sell out quickly!
After reading over the evaluations from my last retreat, the survey that a bunch of you recently filled out and some creative planning on my part I am really pleased with how this next retreat is shaping up!
If you have any questions don't hesitate to email me.
I look forward to seeing you soon!
I think it is good to remind yourself of the simple things in life, that make you smile or make your day brighter. I wanted to document these for myself, and for project life etc. so I thought I would start a new series here on my blog and share them with you as well!
1. Reflecting on the past year. Hard to believe it was a year ago that I moved to the lofts. Overall I am so pleased with the past year and all the changes that have come :)
2. Getting excited for the weekend. Meeting new friends, reconnecting with old, and having something in common with my "roomie" :)
3. Snuggles with Mister Harley
4. Tim Holtz leaving a comment on your instagram photo. Hey! It's exciting ;)
5. Inspiring others to try something new
6. Happy mail from a friend who knows you SO well
7. Making his day
I promised I would be back with some of my creations from Crop on the Cape, and here I am! I didn't get as much done as I wanted to, but do we ever? I'm ok with that- it is meant to be a fun stress free weekend, and once the jetta was packed it was just that!
I started with just a 12×12 layout. I knew I wanted to work on Project Life (more about that later) but I considered this a "warm up". I just LOVE this picture that Alana snapped of Chris and I last summer. It speaks volumes of just how our relationship is and how happy we make one another.
Most of the products on here are ancient… vintage… circa 2005ish. Some really old Rusty Pickle heart patterned paper, and some old Making Memories chipboard letters- but I still love both. The word "love" is cut from another vintage pattern paper but the company is not coming to mind right now. It is possibly Rusty Pickle too. I chose to stop hoarding and USE it! I used an edge distresser around the heart patterns to add a bit of texture to the page. The xo's pattern paper was left over from my Valentine Blog Hop Series. I also added in some sequins and heat embossed some white hearts on the page and directly on my photo. I am obsessed with my typewriter, so I did a little journaling bit on there and word fetti'd it onto my layout. Last but not least I added the "oh, you!" flair from studio calico. I just love how it all turned out. I will post the Project Life Layouts soon I promise. I have been busy busy getting ready for my class and make & take I am hosting for Lawn Fawn at the Collins Rep Spring Trade Show. A lot of kitting- but it will all be worth it- excited to attend this show again, on the other side of the table again- but it will be nice to catch up with some people in the industry that I haven't seen since Colorful Creations closed.
Saturday I was fortunate enough to say good bye to my home away from home, it was bittersweet but I was also thankful to be able to be there- Ink About It's last day open. I am thankful that I got to teach the last class in their classroom.
It's hard to believe that 8ish years ago I contacted Linda and Lori about teaching card classes at their store. I was managing Colorful Creations, and I realized just how much I LOVED teaching. I wanted to inspire and teach more people then just on the cape.
Linda and Lori always supported me, and my class ideas- for this I am thankful. I have been very lucky over the years to have people in my life who have encouraged and supported my creative endeavors.
I often called Ink About It my home away from home because I spent so much time there. If I wasn't at Colorful Creations odds are I was there. In between classes I would help straighten the store out of habit, or prep for more classes in their studio space. I stayed with Linda or Lori a lot so I didn't have to drive home late at night or if I had a class 1st thing the next morning.
A gazillion classes later- I wish Linda and Lori the best in all of their new adventures!
I will always cherish all the memories created at Ink About It. Hosting their make & take at CKC convention, many many many card classes, shoebox swaps, bus tours, mini book classes, canvas classes and more!
I will never forget the time I almost filled tim holtz's classroom. They had rearranged the store to accommodate the high numbers in Tim's classes…. well I was teaching there just before his event. I beg, pleaded and bribed people to sign up for that class so that I could fill all the seats in HIS space ;) heh. It was close enough to make me happy and very proud!
I am thankful for all the fabulous classes I have been able to TAKE there :) With Mary Russo, Patty Euler, Dina Wakely, Tim Holtz Kelly Kilmer, and recently a Zentangle class with Wendy Brown. It isn't often that I get to attend a class so I will miss having the opportunity to getting together with friends and having a creative day.
I am also so very thankful for all of the friendships I have formed over the years and all the support I have been given from everyone who attended my classes. Besides my girls (and guy) on the cape- at Ink About It I have had the most faitful following in my classes- and they are what drives me to keep designing classes. They have driven me to come up with creative designs and new techniques to share with them. I will miss that. I only hope that our paths will continue to cross at other events and hopefully at my loft art retreats ;)
So, although leaving Ink About It Saturday was sad- I truly believe everything happens for a reason and I am excited to see where my creative journey takes me next. I will continue to go forward (my One Little Word for this year) and embrace what comes my way, be brave and appreciate all the memories I have!
Thank you SO much Linda & Lori and all the other Ink About It peeps- for all the wicked fun times! I will see you soon :)
Hey everyone! Here today with another Lawnscaping Challenge- Clean and Simple.. just what I needed last week when I was frantically getting ready for Crop on the Cape.
Just a few things before I show you my creation- just wanted to give one last shout out for the survey I put together to help me plan my May 17th Loft Art retreat- be sure to answer these few short questions today as this week I will be finalizing details AND announcing more information about the event soon! You can find the survey here. Thank you!
Also this week I am offering 2 different classes at Ink About It. These are my last classes before they close- Sign up ASAP!

Ok, now onto that latest Lawnscaping Challenge! Clean and simple also means quick & easy! :) No fussy cutting, no need to do a ton of techniques or use a lot of supplies… just keep it simple.
I am in LOVE with the new note cards from Lawn Fawn! I also am loving all their new sets.. I haven't had a chance to play with them TOO much- but plan to VERY soon. For this card I used a ruler and pencil (shocker I know… ) to measure out the white sheet across, I put little tick marks every quarter of an inch, this helped me know where to stamp the hearts. I stamped the center heart first. Who doesn't love a little rainbow action?
Thank you to Lawn Fawn for sponsoring this challenge, remember you can't win if you don't enter! I am so excited to be teaching a class for Lawn Fawn at the Collins Rep Group Spring Education & Trade Show! It will be the first time I get to meet Kelly in person and I can't wait! Some of the card designs I will be teaching were inspired by the Lawn Fawn Design Team. We are mainly using Float My Boat and Happy Trails, because retailers will be able to take those sets home with them to use in their stores!